Every Saturday, from 2 - 5pm, a horde of local farmers, food preparers, craft makers, and other vendors descend upon Atlantic Beach to peddle their wares at the Beaches Green Market.


One thing I miss about living in St. Augustine is the Saturday morning farmer's market at the amphitheater. While I didn't often go because I wouldn't remember until it was too late (hours are from 8am - noon), I did greatly appreciate scoring fresh fruits and vegetables for relatively little money every time I managed to make it. The only farmer's market I knew about in Jacksonville was the one on Beaver Street, just north of the Riverside/Avondale area. Whereas there are a great number of stalls there, I didn't really get the comfortable farmer's market vibe from the one visit I paid the place a few years ago.
I don't remember how I found out about the Beaches Green Market, I'm assuming either directly or indirectly through a perusal of the blogs on
Jax Reader
. Either this place doesn't go out of it's way to promote itself or the Firefox Adblock plugin has successfully migrated to my brain because I was shocked (although not surprised) to hear of its existence and immediately scheduled a visit for the next Saturday.
The market is fairly small but swarming with people. There are currently
26 vendors listed on the website
for the current season. I'm going to shamefully plagiarize that list and include it here for the people who may not be inclined to click on the link above:


Twinn Bridges Herb Farm Heirloom vegetables and vegetable plants, herb plants, jams, pickles, honey. Located in MacClenny. Pesticide-Free. Some supplemented produce from area farms. They also donated herb plants to fill our community garden beds!


Down to Earth Organic Farm All organic vegetables, herb bunches, and flowers. Fun heirloom varieties. All organic, located in Jacksonville.


Musickal Acres Pecans in Season. Also a variety of vegetables and organic eggs. Pesticide-Free, aiming to be organic. Located in MacClenny. Some supplemented produce from area farms.


Ashlin Farms All-natural beef. Both grain-finished and grass-finished, all pasture raised. No antibiotics, animal by-products, or growth hormones. Located in Jacksonville.


Alvarez Farms Located in Raiford, Alvarez brings us local, conventional produce.


NCL Farms NCL brings us a variety of mostly Naturally Grown produce from small farmers all over Florida.


Grower's Alliance Coffee A Jacksonville-based coffee company. The owners are originally from Kenya, from where they currently import their organic coffee beans. Coffee is locally roasted.


Arbonne Vegan body-care products in all recycled packaging.


Annie Clydes Homemade deserts, such as miniature pecan and sweet potato pies, cakes, and brownies.


Turtle Island Natural Foods Our local health food store, Turtle Island sells delicious homemade organic dips, spreads, and salad dressings, as well as a selection of local organic produce. They also offer organic, regional produce baskets that you can pick up weekly at the Market. They are donating the tool shed for the community garden!


Jaxma Orchid Greenhouse Large variety of orchids from a local family greenhouse.


Bone Appetite All-natural dog and cat treats, as well as hand-sewn pet collars and toys.


Earthen Jewelry Designs Lil sells her handcrafted jewelry, specializing in natural stones and handmade clay beads.


Cognito Farm Cognito joins us a couple times a month, bringing their free-range all-natural broiler chickens, eggs, beef, goat cheese and milk, and organically grown produce.


Maria's Bakery Maria sells a huge variety of baked goods, such as whole grain breads, calzones, cookies, etc.


Porters and Importers Beth travels the world in order to find fair-trade products made by small organizations. She has a variety of neat products, such as jewelry, purses, toys, etc.


My Eco Organic Kettle Corn They started as a local store, specializing in ecological home products... now they are featured at the market with organic treats such as kettle corn and shaved ice.


St. Augustine Crab Cake King Arthur serves crab cakes from Fernandina, as well as coconut shrimp.


Shoe House Studio Melanie melts wine bottles into cheese trays, bowls, and decorative wall hangings-- recycling bottles into something functional. She also makes ceramic jewelry and soap dishes from clay and glass.


Ocean Bottom Custom Crafts Donna makes natural soaps from goat's milk, avocado, cucumber, and shea butter. She also makes tote bags from recycles fabric samples.


Josey's Honey Amanda sells a variety of this local honey from well-managed hives.


Afric Boutique Princess Trinity creates customized skin care from a variety of butters, including shea, avocado, and cacao, brought directly from family plantations in Kenya.


FiFi's Granola Maribeth sells her homemade granola, with a variety of different flavors.


Natural Solutions Karen Sparkman makes a variety of herbal salves, teas, sprays and balms to help all of your ailments. All are made from organically grown herbs.


Shakti Life Kitchen Shakti is a local vegan, raw food cafe. They bring organic treats such as flax crackers, buckwheat beans, blue corn chips, and seed cheese.


Charlie's Citrus bCharlie is a long-time local and grower of organic citrus. He has a great variety, including several kinds of grapefruit, tangerines, meyer lemons and more.


Fruits, vegetables, fresh meat, hygienic products, snacks, coffee, tea, flowers, and crafts; there's a lot of variety represented in such a small space. Again, I totally stole the above from the
Beaches Green Market website
but I feel that the above vendors definitely deserve as much promotion as possible.
Being a hopeless coffee addict, I'd like to give a special shout out to
Grower's Alliance Coffee
who work with farmers in Africa to provide single origin, organic and fair-trade coffees. The beans are roasted here in Jacksonville the night before you purchase them at the market and will only cost you about as much as an equivalent amount of Starbucks coffee beans. And while I'm not much of a flower appreciator myself, preferring instead to grow edible plants, the amazing orchids at the Jaxma Orchid Greenhouse tent are a must-see for anyone stopping by the market.
There's nothing like fresh produce. Eating a tomato straight off the vine is one of the most sublime experiences I've ever had the privilege to undergo with any regularity. But while they don't bring the living vine, the freshness of the vegetation is unparalleled in super markets. And until Native Sun opens a Jax Beach branch, this is pretty much the best local option the salt water people of East Duval county have to for fresh, organic produce.
But before I go, I must relate one tragic detail about my visit which left me a little disappointed. I did not see this guy: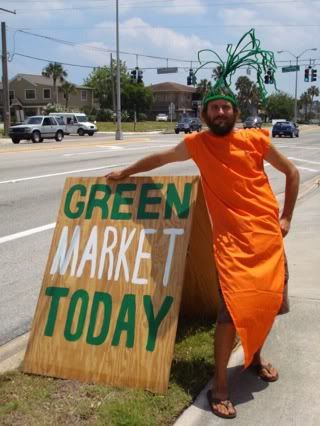 And while my disappointment hasn't put me off visiting again, I think my trips would be more frequent if Carrot Man were a regular feature.
Beaches Green Market
Every Saturday
2- 5 PM
Jarboe Park, Neptune Beach
(intersection of A1A and Florida Blvd.)